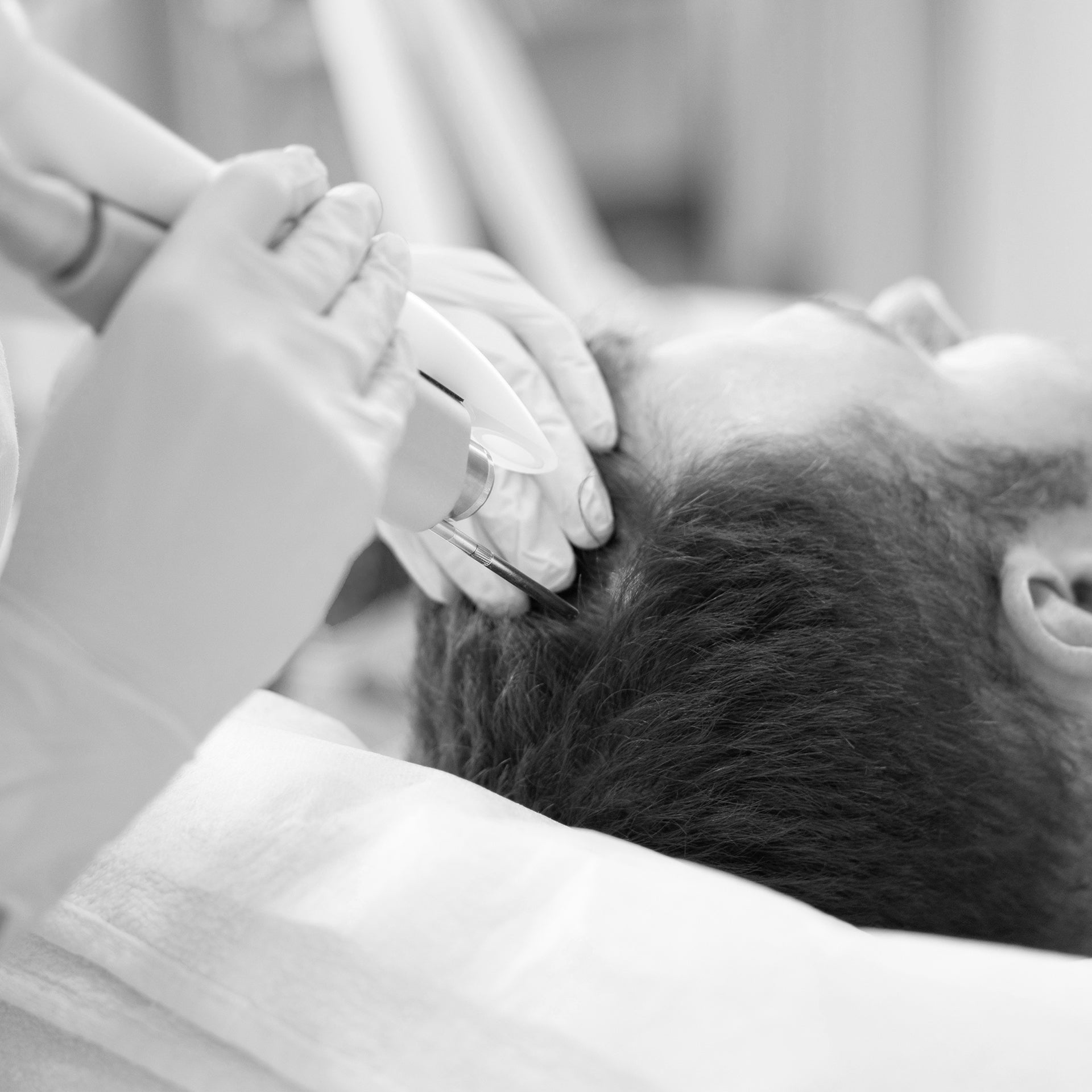 Alma TED's patented technology offers a non-invasive treatment that addresses hair loss in women and men. Its revolutionary ultrasound-based system uses acoustic sound waves to increase blood flow to the scalp to stimulate hair, scalp and follicle strength.
---
• Alma TED is a comfortable procedure that does not cause trauma to the scalp.
• Results are noticeable after one treatment in as soon as two weeks.
• Fast, in-office procedure is pain-free and requires no downtime.
Frequently Asked Questions

What is Alma TED and how does it work?

Alma TED TechnologyTM is non-invasive and administered via a patented hand-held device engineered with Impact DeliveryTM, a unique pushback effect using air pressure to stimulate follicle activity.

What are the benefits of Alma TED treatment?

This simple, fast procedure doesn't require topical anesthetic, and even after one treatment, patients notice less shedding as soon as two weeks post-treatment. It takes just 20 to 25 minutes in the office, causes no pain or scalp trauma, requires no downtime, and helps develop thicker, fuller-looking hair.

Is Alma TED right for me?

Alma TED is safe and effective for most patients, is non-invasive and uses ultrasound-based technology. Schedule a consultation with our office to determine how Alma TED can help you achieve your hair growth goals.

What's the best way to follow the Alma TED treatment?

After the treatment, Dr. Marnie recommends using the exclusive TED+ Hair Care Formula that contains essential ingredients that support hair and scalp health and follicle strength. Additionally, her comprehensive RX Hair Regrowth Serum reinvigorates your hair growth and volume. Her proprietary formula contains 10% prescription-strength minoxidil, and with daily use, stimulates follicle activity to produce hair that's fuller, stronger and denser. If further help is needed, Nutrafol's drug-free hair supplements help treat underlying causes of hair thinning and loss with all-natural ingredients.
"

This was such a quick and pain-free procedure, I felt great afterward and best of all, my hair quickly grew fuller and healthier.

"