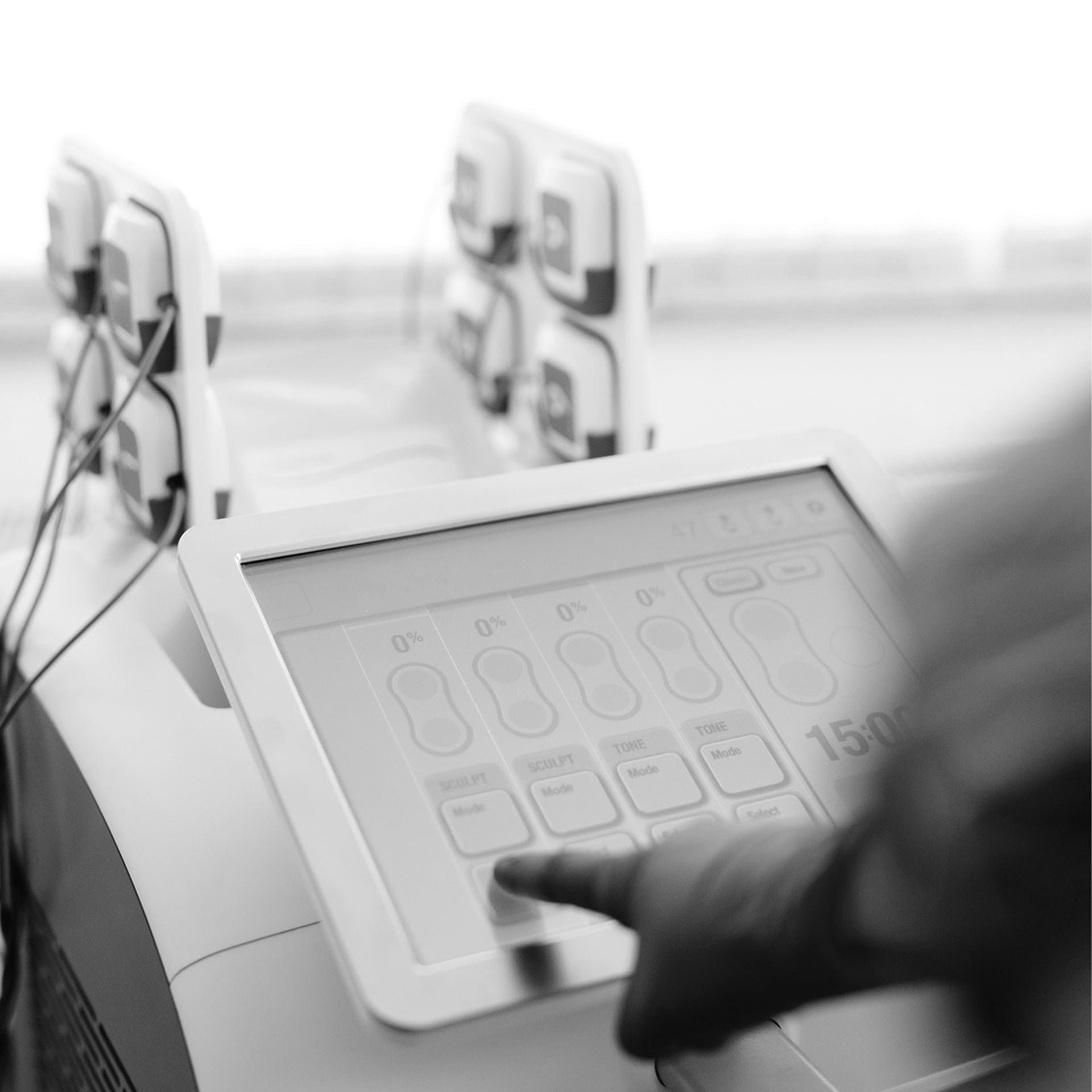 TruSculpt® for Non-Surgical Fat Reduction
This modern, non-invasive technology contours the body and reduces fat with no downtime and incredible results. It is truly a game-changer for anyone who has struggled with stubborn fat.
---
• Fat-reduction treatment that works for individuals with a BMI of over 30.
• Experience a 24% fat reduction after your first treatment with the power of radiofrequency technology.
• Shorter, more efficient and comfortable treatment sessions that last just 15 minutes.
Frequently Asked Questions

What is TruSculpt® and how does it work?

TruSculpt® uses innovative monopolar radiofrequency technology, which targets fat tissue, heats it, and eliminates that fat permanently through the body's natural processes over several weeks. On average, patients will experience a 24% fat reduction in the target area over three months.

How is TruSculpt® different from other body contouring and fat reduction technologies?

Unlike many other technologies, TruSculpt® may be used on patients experiencing skin laxity who have a higher BMI, or who may otherwise be ineligible for other procedures due to tattoos or skin type.

What areas can be treated by TruSculpt®?

Many different areas of the body can be treated simultaneously. The most common areas include the abdomen, back, love handles, legs, thighs and arms.

What are the benefits of TruSculpt®?

Every treatment is customized to you — we always focus on the areas that matter to you most. The biggest benefit is that there will be a noticeable reduction in fat in the target area that we treat after just one 15-minute treatment. The best results will be visible after 12 weeks. Some patients might choose to do a few treatments to achieve their goals.

Is TruSculpt® right for me?

TruSculpt® is clinically proven to help eliminate fat cells from stubborn areas regardless of a patient's shape or body type. While we always conduct in-person consultations ahead of recommending a procedure, TruSculpt® is likely to be a good procedure choice for almost any patient!

What's the best way to follow TruSculpt® sessions?

Dr. Marnie's BodyFirm is an ideal follow-up cream, as it was developed expressly for use after body-sculpting procedures. This potent cream eliminates crepey skin and cellulite, firms and tightens the skin and gives a toned appearance using its patented blend of anti-aging peptides. Nectifirm® Advanced from Revision enhances the skin's own antioxidant system, making skin brighter and firmer.
"

I felt that many of the body contouring treatments weren't right for me, based on my size and needs. When Dr. Nussbaum recommended TruSculpt®, I couldn't have been happier!

"